Tag Archives:
kickstarter
With an his­toric Pres­i­den­tial re-elec­tion just com­plet­ed, we want­ed to treat you to a lit­tle Triv­ia Quiz (cre­at­ed by our Pro­duc­tion Intern Mag­gie Bar­rett and fea­tured as part of our recent "Night in Old Shang­hai" ben­e­fit in Honolulu)
Can you guess at least three things? They were both from Hawaii is a give away. Try to think of three oth­er things. Here's the sec­ond slide to help you.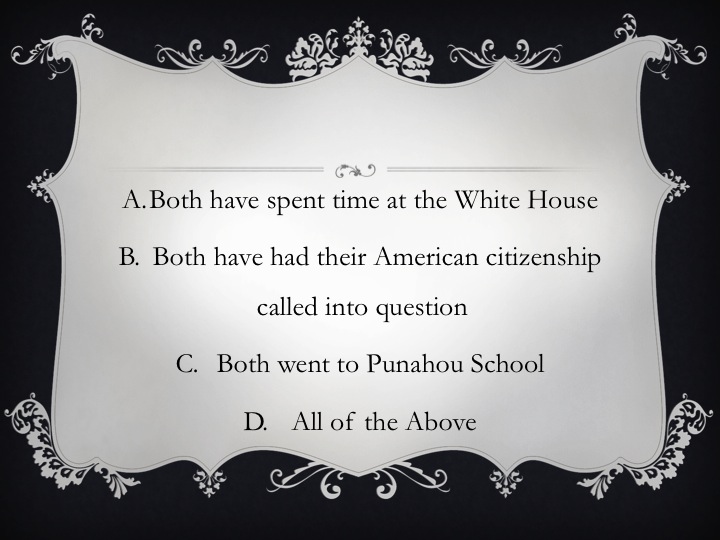 Regard­ing Answer B: Ques­tion­ing Pres­i­dent Oba­ma's Amer­i­can cit­i­zen­ship may be polit­i­cal­ly moti­vat­ed, but for Li Ling-Ai and many oth­er Chi­nese Amer­i­cans it was a part of dai­ly life dur­ing the days of the dis­crim­i­na­to­ry Chi­nese Exclu­sion Laws. Read more about it HERE.
Regard­ing Answer A: Li Ling-Ai and Rey Scott showed a rough cut of KUKAN to Pres­deint Roo­sevelt at a pri­vate White House Screen­ing late at night on Jan­u­ary 1, 1941 — 5 days before FDR's famous Four Free­doms Speech, 6 months before KUKAN would open in the­aters and almost a year before the Japan­ese attack on Pearl Har­bor. To see proof of the White House vis­it, make a tax-deductible pledge to FINDING KUKAN on Kick­starter and view "Back­ers Only" exclu­sive videos and pho­tos from the documentary.
When I first made con­tact with Rey Scot­t's grand­daugh­ter Michelle Scott and filled her in a lit­tle about the sto­ry behind KUKAN, she felt a need to trans­fer that sto­ry into paint and shared with me a vision she had for cre­at­ing a whole room of paint­ings ded­i­cat­ed to her grand­fa­ther and KUKAN. It seemed like a far-fetched dream back then. So I was more than a lit­tle excit­ed to go to Atlanta to wit­ness the open­ing of Michelle's solo show — THE KUKAN SERIES. Michelle had­n't shared any images of the new work with me, so I was­n't pre­pared for the visu­al sweep and emo­tion­al pow­er of the work. It lit­er­al­ly brought me to tears. Here are a few choice pieces from the show. WARNING — these pho­tos do not do the pieces jus­tice. The real pieces have an almost three-dimen­sion­al qual­i­ty that allows the view­er to enter into the scene and expe­ri­ence a lit­tle of Rey Scott and Li Ling-Ai's world back in the late 30's.
The 36"X36" piece that Michelle cre­at­ed exclu­sive­ly for our Kick­starter fundrais­ing dri­ve is dis­played right in the front win­dow of 2Rules Fine Art in Mari­et­ta. Casu­al strollers walk­ing down the side­walk can't help but be pulled in to find out with the imagery is all about. For close up details of this paint­ing go to our Kick­starter home page.
The KUKAN Series con­tains a few gor­geous trib­utes to Li Ling-Ai the Chi­nese Amer­i­can author who was the uncred­it­ed co-pro­duc­er of KUKAN with Rey Scott.
The work below con­tains images of Li Ling-Ai from three dif­fer­ent decades and three dif­fer­ent loca­tions (the old Hon­olu­lu Acad­e­my of Art, Bei­jing Chi­na, and New York City)
There are also fab­u­lous pieces that pro­vide a visu­al mon­tage of the Chi­na wit­nessed through Rey Scot­t's cam­era. He took both stills and 16mm col­or movies. Some of his old cam­eras are on dis­play too with the orig­i­nal stills.
Rey Scott trav­eled all the way to Tibet and filmed some of the first col­or footage of prayer rit­u­als there.
Michelle's take on the orig­i­nal KUKAN lob­by cards for the Unit­ed Artists ver­sion of the film.
Rey Scott also filmed the famous Bur­ma Road as it was being built.
A reminder of the British influ­ence in Hong Kong which fell to the Japan­ese in 1941.
A whole movie could be made just about the baby giant pan­da bear that Rey Scott brought from Cheng­tu to the Chica­go Zoo. Orig­i­nal­ly chris­tened "Li Ling-Ai" by the for­e­ing jour­nal­ists in Chungk­ing, it was lat­er named Mei Lan when it was iden­ti­fied as a boy pan­da bear.
There are many more gems in this show. But the emo­tion­al high­light for me was being able to see the first two por­traits of Rey Scott and Li Ling-Ai that Michelle did. I first saw them on her web­site before we even knew each oth­er and before she even knew who Ling-Ai was. This was the first time I was able to see them both in per­son. Since the pieces had been sold to dif­fer­ent col­lec­tors sev­er­al years ago, this was also the first time they were reunit­ed in the same room for quite some time — a sym­bol of hope for me as I con­tin­ue to seek fund­ing to fin­ish FINDING KUKAN.
If you are in the Atlanta area make an effort to see this his­toric show — up only until Octo­ber 26, 2012
Well to off­set my ter­ri­ble expe­ri­ence of hav­ing my cam­eras and jew­el­ry ripped off, let's talk about one of the lucky things that have hap­pened late­ly. The new FINDING KUKAN teas­er has inspired sev­er­al amaz­ing women to vol­un­teer their tal­ents to help devel­op the film! All amaz­ing cre­ative pro­fes­sion­als in their own right, Pamela Tong, Mag­no­lia Bar­rett, and Debra Zeleznik recent­ly gath­ered at my house to talk about how to get the film to the next step. We were guid­ed by the great research vol­un­teer Notre Dame stu­dent Camille Muth did for us.
Right now our most imme­di­ate need is to raise fund­ing to com­plete the film. So we are plan­ning a KICKSTARTER CAMPAIGN to begin in OCTOBER. Why Kick­starter you might ask?
#1. IT WORKS. Crowd­fund­ing– it's what PBS and NPR have been doing for years — the phone in fund dri­ve for­mat where you get a nice lit­tle gift and men­tion on the show for mak­ing your dona­tion at a par­tic­u­lar time. Kick­starter (admin­is­tered by Ama­zon) is just an online way of doing it and is struc­tured so that inde­pen­dent cre­ative types can have a ready made plat­form to launch their own crowd­fund­ing cam­paigns. Check out a cou­ple of amaz­ing doc­u­men­tary cam­paigns here and here.
#2. GRANTS ARE GONE. Well not total­ly. I've been lucky enough to get a cou­ple of small grants in the past and will con­tin­ue to write oner­ous grant appli­ca­tions to try to cap­ture what lit­tle fund­ing is still avail­able to doc­u­men­taries — my Exec­u­tive Pro­duc­er Kim­ber­lee Bass­ford point­ed out that it's eas­i­er to get into Yale Uni­ver­si­ty than it is to get most major film grants. Even direc­tors with sev­er­al major PBS doc­u­men­tary series under their belts are find­ing it hard to make films with the tra­di­tion­al fund­ing avail­able in this tight economy.
#3. IT'S FUN. To learn more about Kick­starter I've donat­ed to a cou­ple of projects myself. Donat­ing makes you part of a team and gets you emo­tion­al­ly invest­ed in some­one else's cre­ative project. It's ener­giz­ing and inspir­ing to be part of a group effort to cre­ate some­thing of last­ing val­ue. Plus there are some fun pre­mi­ums you can get for donating.
Do you have any expe­ri­ence with Kick­starter or oth­er fundrais­ing efforts? Can you give us some point­ers on how to run a suc­cess­ful fundrais­ing cam­paign? Do you have an idea for a great pre­mi­um to give to future donors? Don't be shy! We need all the help we can get. Please let us hear from you!