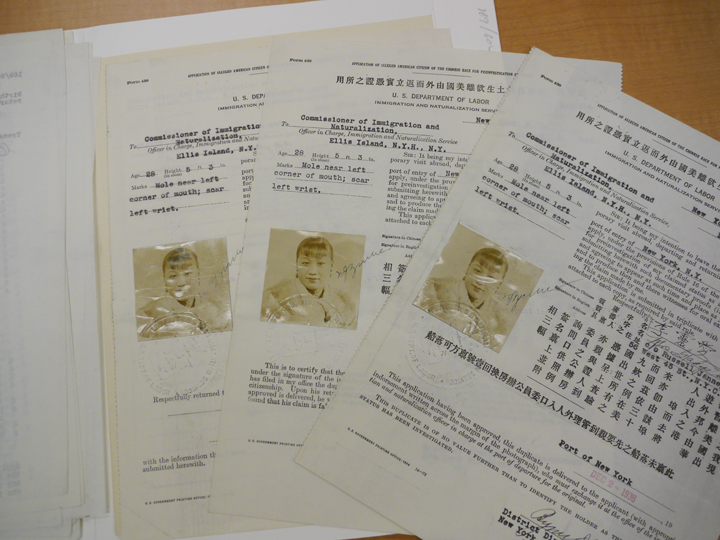 When I first start­ed check­ing to see if Li Ling-Ai could have been the real life inspi­ra­tion for the fic­tion­al detec­tive Lily Wu, I tracked down some of her trav­els through boat records that are avail­able on Ancestry.com. One of the Ances­try records was a New York Exclu­sion file that list­ed the date of her arrival in San Fran­cis­co. Going over the notes on the record again, I saw that Li Ling-Ai's file includ­ed an inter­ro­ga­tion. Since the inter­ro­ga­tion occurred only a year before Li Ling-Ai met Rey Scott and con­ceived of mak­ing the movie KUKAN, I was anx­ious to read through the inter­ro­ga­tion to see if it con­tained any clues. In July I final­ly got a chance to vis­it the NYC office of the Nation­al Archives where Li Ling-Ai's Exclu­sion file is located.
It was amaz­ing­ly well-pre­served, and I had a lot of mixed emo­tions while exam­in­ing it. On the one hand, I was excit­ed to see a pho­to­graph of Li Ling-Ai in the file that I had nev­er seen before and let­ters that were hand-writ­ten by her. Han­dling the doc­u­ments gave me a very vis­cer­al con­nec­tion to the past and to this woman that I have been pur­su­ing for the last cou­ple of years.
On the oth­er hand I was appalled that this file exist­ed in the first place. I had to think about the bla­tant anti-Chi­nese dis­crim­i­na­tion that led to The Chi­nese Exclu­sion Law — the rea­son for the cre­ation of the file I was touch­ing. I was astound­ed that a U.S. cit­i­zen like Li Ling-Ai (she was born in Hawai'i in 1908 when it was already a U.S. Ter­ri­to­ry) who had a U.S. Pass­port (doc­u­ment­ed in the file) would have to spend days at the NYC Immi­gra­tion Office in order to get a re-entry form that would make it pos­si­ble for her to come back to her own coun­try after leav­ing it! And that she would have to sit through an inter­ro­ga­tion to prove that she was authen­tic despite all the oth­er doc­u­men­ta­tion she had made me even more indignant.
As a researcher, I was thank­ful to be able to access the reveal­ing infor­ma­tion in the file and draw both the pos­i­tive and neg­a­tive ener­gy from it. So I have to acknowl­edge the hard work that goes into index­ing, stor­ing and retriev­ing these records. That day at the Archives I wit­nessed two vol­un­teers who were labo­ri­ous­ly going through files and enter­ing data into lap­tops so that oth­ers like me could find infor­ma­tion about ances­tors and char­ac­ters from the past. I wish I had got­ten their names and tak­en pho­tos of them if only to pay a small homage to all the oth­ers like them who have helped for­ward my investigation.