Can the dis­cov­ery of a long lost 1941 Oscar-winning film bring recog­ni­tion to the unher­alded Chi­nese Amer­i­can woman behind the mak­ing of the movie?
View the Work-In-Progress Teaser
Find­ing

KUKAN

is in the begin­ning stages of post-production. We are cur­rently rais­ing funds to pay for edit­ing, sto­ry­board­ing of shadow sequences, licens­ing footage, and music com­po­si­tion.  You can help bring this story to fruition by mak­ing a tax-deductible dona­tion 

HERE

.
 
Back­ers who donate $25 or more receive a set of three sou­venir post­cards made from the orig­i­nal 1941
KUKAN

lobby cards; back­ers who donate $1000 or more receive offi­cial film credit.

*On Octo­ber 15, 2013 we com­pleted a suc­cess­ful "10k in 10weeks Keep This Film Alive Cam­paign" by rais­ing $10,403.  Mahalo and Xie xie to all the gen­er­ous donors who made it happen.



About The Film
The courage of the past is the inspi­ra­tion for the future. But what hap­pens when that past is for­got­ten or oblit­er­ated? Hawaii Chi­nese film­maker Robin Lung, who grew up long­ing to be blonde and blue-eyed, doesn't remem­ber any Chi­nese Amer­i­can hero­ines in the pop­u­lar cul­ture of her youth. So when she dis­cov­ers that a Chi­nese woman from Hawaii named Li Ling-Ai co-produced a 1941 Oscar-winning film called KUKAN, her amaze­ment quickly turns to an obses­sion to learn all she can about Li and the film.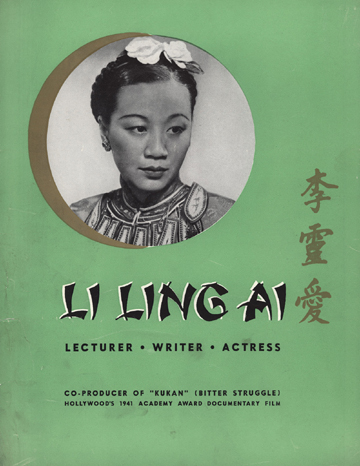 The trou­ble is KUKAN, an epic color film of China and its peo­ple amid war with Japan, has been lost for over half a cen­tury. No known copy exists. What's more, the Acad­emy Award and most of the atten­tion for KUKAN went to cam­era­man Rey Scott. Li Ling-Ai is only cred­ited as a Tech­ni­cal Advi­sor and has been com­pletely ignored by film his­to­ri­ans. Lung's sense of injus­tice spurs her on to locate Rey Scott's four sons who have one badly dam­aged full copy of KUKAN. Lung also finds scrap­books, let­ters and arti­cles that tell an inspi­ra­tional story of two novice film­mak­ers who brave war, prej­u­dice and poverty to bring China's war-time plight to the rest of the world. Their movie ends up screen­ing for Pres­i­dent Roo­sevelt at the White House and helps to change the course of the war. But as the years pass, China falls out of polit­i­cal favor and KUKAN and Rey Scott drop out of sight. Li Ling-Ai's sto­ries about KUKAN seem more and more unreal. She has lit­tle to show to prove her part in the mak­ing of the film, and many pass her sto­ries off as exag­ger­a­tions or lies. Lung's effort to restore KUKAN and retell Li's story become essen­tial to secur­ing a place in film his­tory for this pio­neer­ing Chi­nese Amer­i­can media maker.