A reflec­tion on lost his­tory and the power of art, this fea­ture doc­u­men­tary fol­lows a filmmaker's quest to bring recog­ni­tion to the unher­alded woman behind the mak­ing of

KUKAN

, a long-lost Acad­emy Award-winning color doc­u­men­tary about World War

II

 China.
View the Work-In-Progress Teaser
Find­ing

KUKAN

is in the begin­ning stages of post-production. We are cur­rently rais­ing funds to com­plete a rough cut of the film.  You can help bring this story to fruition by mak­ing a tax-deductible dona­tion 

HERE

.
 
Back­ers who donate $25 or more receive a set of three sou­venir post­cards made from the orig­i­nal 1941
KUKAN

lobby cards; back­ers who donate $1000 or more receive offi­cial film credit.

 
About The Film
Asian Amer­i­cans have been a part of Amer­i­can his­tory and cul­ture for many gen­er­a­tions, yet the term "Asian Amer­i­can Hero" is still an oxy­moron in main­stream media and pop­u­lar cul­ture. In Find­ing KUKAN, Hawaii film­maker Robin Lung embarks on an inves­tiga­tive jour­ney to reclaim a Chi­nese Amer­i­can hero­ine from the past. At a time when Chi­nese Amer­i­cans were denied basic rights of cit­i­zen­ship, Li Ling-Ai was a pio­neer­ing play­wright and moviemaker. She was the un-credited pro­ducer of KUKAN, a 1941 color film about World War II China, and one of the first doc­u­men­taries to receive an Acad­emy Award. Why have we never heard of Li Ling-Ai or KUKAN? And why have all copies of KUKAN van­ished com­pletely? These ques­tions become deeply per­sonal as Robin learns that the socio-political forces that robbed Ling-Ai of credit and caused KUKAN to go miss­ing have stunted her own aspi­ra­tions in sub­ver­sive ways. Prior to pro­duc­ing KUKAN, Li Ling-Ai knew lit­tle about mak­ing movies and direc­tor Rey Scott had never held a motion pic­ture cam­era in his hands. They had no Hol­ly­wood back­ing or gov­ern­ment sup­port. Yet they cre­ated an epic color film of China that screened for Pres­i­dent Roo­sevelt at the White House and had long runs in the­aters across the coun­try. Robin looks beyond the entranc­ing Cin­derella story of KUKAN to ask why the Acad­emy Award and most of the credit was given to Rey Scott. Were Li Ling-Ai's achieve­ments over­looked because she was a Chi­nese woman?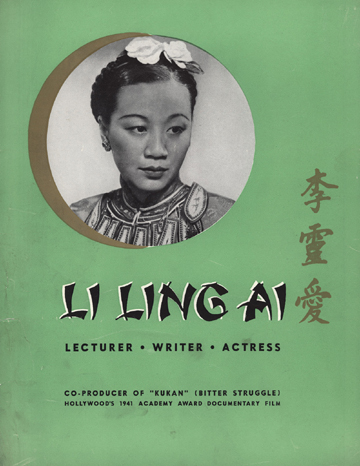 Robin becomes an obses­sive his­tory detec­tive in order to doc­u­ment Ling-Ai's story for future gen­er­a­tions. In her quest she finds Rey Scott's four sons who have a badly dam­aged print of KUKAN and a tat­tered scrap­book of arti­cles about the film. The dis­cov­ery opens doors to for­got­ten chap­ters in Amer­i­can his­tory, and prompts Robin to travel to China to learn what drove Ling-Ai to risk every­thing to make KUKAN. Part his­tor­i­cal doc­u­men­tary, part per­sonal dis­cov­ery, Find­ing KUKAN crosses gen­res to explore uni­ver­sal ques­tions about how the unrecorded his­to­ries of minori­ties and women shape cur­rent per­spec­tives on race, gen­der, iden­tity, and art; and why a vibrant Amer­i­can democ­racy depends on pre­serv­ing diverse sto­ries from our past.