Can the dis­cov­ery of a long lost 1941 Oscar-winning film bring redemp­tion to the unher­alded Chi­nese Amer­i­can woman and the for­got­ten pho­to­jour­nal­ist behind the mak­ing of the movie?
View the Work-In-Progress Teaser
Find­ing

KUKAN

is plan­ning to wrap up film­ing in 2013 and head into post-production. We are cur­rently rais­ing funds to begin edit­ing and pro­duc­ing the inno­v­a­tive his­tor­i­cal visu­al­iza­tions for the film. Keep this story alive by donat­ing to the project

here

.
About The Film
A search for a Chi­nese Amer­i­can hero­ine leads film­maker Robin Lung to Li Ling-Ai, an auda­cious Chi­nese woman from Hawaii who co-produced a 1941 Oscar-winning doc­u­men­tary called KUKAN – a 90-minute color fea­ture that depicts the Chi­nese resis­tance to the Japan­ese inva­sion of the country.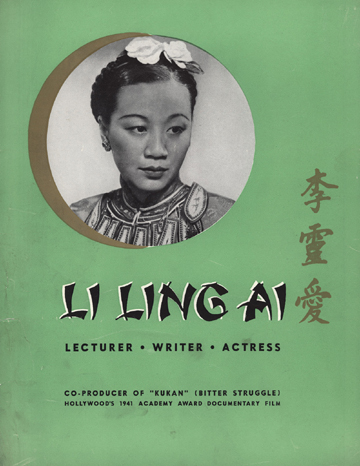 KUKAN means "heroic courage under bit­ter suf­fer­ing" and can also describe the jour­ney of its two film­mak­ers. Prior to pro­duc­ing KUKAN, Li Ling-Ai knew lit­tle about mak­ing movies and her direc­tor Rey Scott had never held a motion pic­ture cam­era in his hands. They had no Hol­ly­wood or gov­ern­ment back­ing and faced numer­ous obsta­cles. Yet KUKAN was screened for Pres­i­dent Roo­sevelt at the White House, had long runs in the­aters across the coun­try and was edi­to­ri­al­ized in major news­pa­pers before becom­ing the first of two doc­u­men­tary fea­tures ever given an Acad­emy Award. Now after being lost for over 50 years, the world knows almost noth­ing about KUKAN or its two coura­geous filmmakers.
When Robin Lung finally locates a badly dam­aged copy of
KUKAN
in a Geor­gia base­ment, she pieces together the incred­i­ble story behind the film and cre­ates an unfor­get­table por­trait of a pio­neer­ing female media maker.