Category Archives:
Uncategorized
After four months, I'm still try­ing to digest all the new expe­ri­ences and things I learned on my first trip to Chi­na in July – a study tour focused on World War II his­to­ry. Cur­rent­ly the aver­age high school world his­to­ry class in the Unit­ed States spends less than 15 min­utes a year teach­ing about World War II in Asia. Back in my day, it was even less than that. So this trip was a real eye-open­er even though I'd been study­ing up on the sub­ject for the past few years. A fel­low­ship from the New Jer­sey chap­ter of The Alliance for Learn­ing and Pre­serv­ing the His­to­ry of World War II in Asia (ALPHA) and a gen­er­ous dona­tion from Dou­glas Ho and the Beat­rice M.H. Young Foun­da­tion made my whole trip pos­si­ble. I'm grate­ful to them and all my trav­el­ing com­pan­ions who enhanced my experience.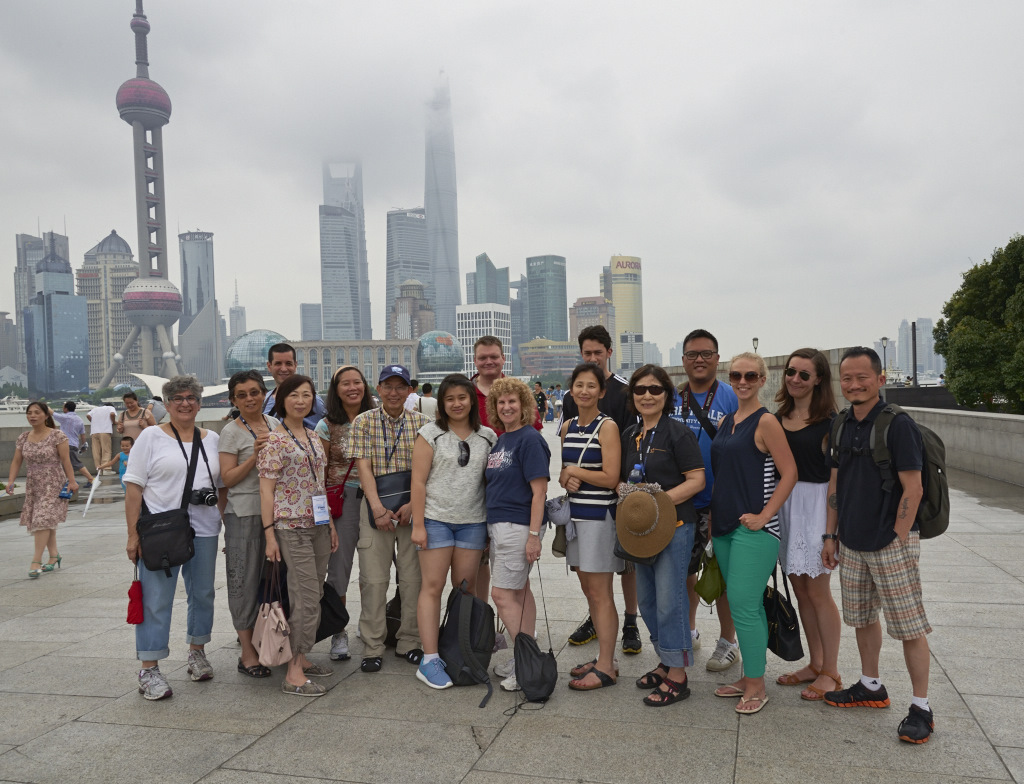 2014 ALPHA Study Tour group on the Shang­hai Bund
(pho­to by Louis Au)
Toron­to ALPHA orga­nizes the study tour to help high school teach­ers cre­ate cur­ricu­lum mate­r­i­al cur­rent­ly miss­ing from class­rooms. Although we did pause for pho­to-ops and many great Chi­nese and Kore­an meals, much of the tour was spent in study and reflec­tion on seri­ous top­ics, and once-in-a-life­time meet­ings with sur­vivors of the war.
Shang­hai was our first stop and a good prepa­ra­tion for what was to come, shat­ter­ing many pre-con­ceived notions that I had about Chi­na and main­land Chi­nese peo­ple. First of all, I was not inter­ro­gat­ed by immi­gra­tion or strip searched by cus­toms offi­cials or "shanghai'ed" by the taxi dri­ver. In fact, as the taxi took me to our hotel from the Pudong Air­port late Fri­day night, Shang­hai seemed dis­ap­point­ing­ly west­ern. The miles of tall apart­ment build­ings lead­ing into the cen­tral part of the city remind­ed me of the sub­urbs sur­round­ing NYC. The bill­boards adver­tised west­ern lux­u­ry brand goods and fea­tured Hol­ly­wood movie stars like George Clooney. As soon as we neared the cen­ter of the city we also hit NYC-style traffic.
Since I'm a lazy blog­ger with a poor mem­o­ry, I refer you to fel­low trav­el­er Don Tow's excel­lent wrap-up of our trip and my room­mate Debra Maller's day by day blog to get a bet­ter idea of all the sites we vis­it­ed and peo­ple we spoke to.
For me, learn­ing of the abus­es of women dur­ing the war was par­tic­u­lar­ly emo­tion­al. The real­i­ty of the sit­u­a­tion hit home for me when we vis­it­ed a for­mer "com­fort sta­tion" in Shang­hai, the for­mer res­i­dence of the Chen's, a wealthy fam­i­ly who fled Shang­hai when the Japan­ese mil­i­tary invad­ed the city in 1937.
The Japan­ese mil­i­tary took over the house to use as a broth­el for their troops and forced women that they kid­napped to live there and pro­vide sex to the men. About 40 women were kept in the house dur­ing the war. It was a pow­er­ful emo­tion­al expe­ri­ence to be in the actu­al loca­tion where these women were impris­oned and abused. The place felt haunt­ed. I could sense the help­less­ness of the women who were forced to ser­vice the men and the despair they must have lived with.
The fact is that sex­u­al slav­ery and the abuse of women still goes on all over the world. How can we stop it? On the last leg of our trip I was heart­ened to meet the Kore­an grand­mas in Seoul, sur­viv­ing "com­fort women" who had become activists to help oth­er women suf­fer­ing sex­u­al abuse. Their abil­i­ty to sur­vive to find enjoy­ment and pur­pose in life made me real­ize that human­i­ty is also capa­ble of great good. Their activism and com­mit­ment to shar­ing very painful per­son­al sto­ries so oth­ers might not have to suf­fer was deeply inspirational.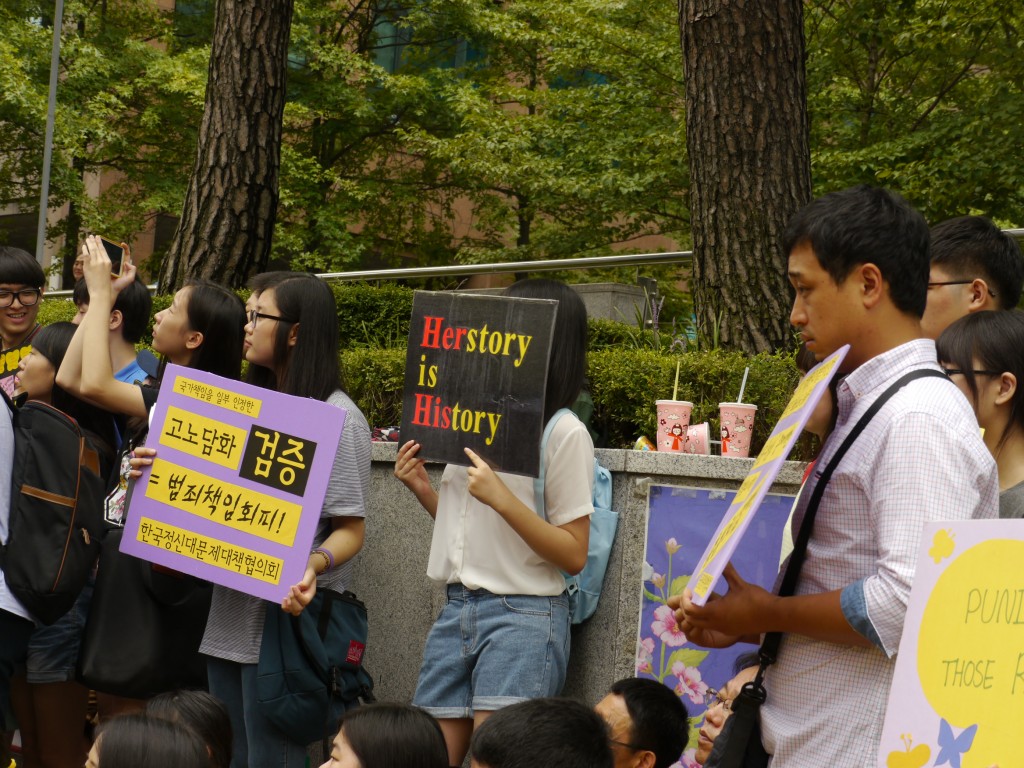 Many of the World War II atroc­i­ties we learned about on the tour are com­pi­la­tions of per­son­al his­to­ries that have almost been lost and are only now being able to be told due to the dili­gent work of indi­vid­ual schol­ars or brave indi­vid­u­als who have gone pub­lic with their sto­ries despite the pub­lic shame or gov­ern­ment dis­ap­proval that has come with it. As our learn­ing ses­sions con­tin­ued, I began to see that every coun­try and every gen­er­a­tion with­in each coun­try has a dif­fer­ent way of remem­ber­ing his­to­ry and using his­to­ry to forge a path to the future. There are also forces in every coun­try that cause large chunks of his­to­ry to be sup­pressed or for­got­ten. Amer­i­ca is no excep­tion. How much of our own his­to­ry has been lost or for­got­ten? And why?
The high­light of my trip came after the offi­cial study tour was over and I trav­eled to Chongqing, the wartime cap­i­tal of Chi­na where much of KUKAN was filmed. I was able to stand at the very place that Rey Scott filmed scenes of the bomb­ing of Chongqing that made KUKAN famous.
I also screened KUKAN for a group of about 30 his­to­ri­ans in Chongqing.They were clear­ly moved by the scenes of their city being dec­i­mat­ed by the Japan­ese bombs. They had nev­er heard of KUKAN before even though many of them had spent their aca­d­e­m­ic careers study­ing the war. The film rep­re­sent­ed the most com­plete record of the bomb­ing of Chongqing that they had ever seen and con­tained a trea­sure trove of images from all the loca­tions in Chi­na where Rey Scott filmed.They applaud­ed Li Ling-Ai and Rey Scot­t's hero­ic effort in mak­ing the film and my effort to bring it to their atten­tion. As a strug­gling film­mak­er, know­ing that a piece of work can have an impact beyond one's life­time helps keep me moti­vat­ed when the chips are down. I hope to have more news about a return trip to Chi­na soon.