Tag Archives:
Soft Film blog
Late tonight I am putting off writ­ing a pre­sen­ta­tion for upcom­ing Octo­ber events and brows­ing the won­der­ful pho­tos of Li Ling-Ai that Soft­film blog­ger Duri­an Dave dis­cov­ered in the LIFE pho­to archives. These are all of a Unit­ed Chi­na Relief Fash­ion show in May 1941 and tak­en by Alfred Eisen­stadt (note KUKAN would pre­miere the fol­low­ing month in NYC — it must have been a heady time for Li Ling-Ai).
I love see­ing this crowd shot of all the NYC socialites wear­ing their hats. While view­ing these pho­tos, a bell rang in my head and I remem­bered some of my research at the Colum­bia Rare Book and Man­u­script Library. A fash­ion show had been held at the Hotel Pierre. Sure enough, I com­pared a cur­rent pho­to of the pent­house ball­room and the arch­ways are the same. I got chills remem­ber­ing that I had been to a wed­ding at that same spot back in the 90's.
I had no idea that Li Ling-Ai par­tic­i­pat­ed in the fash­ion show when I took those notes at Colum­bia a cou­ple of years ago.
Li LIng-Ai is seen here pos­ing with James Blaine, nation­al chair­man of Unit­ed Chi­na Relief and the pres­i­dent of Marine Mid­land Trust. He was just one of the NYC CEOs that Hen­ry Luce recruit­ed to lead the huge fundrais­ing effort to aid Chi­na pri­or to WWII.
These pho­tos bring this 1941 event to life for me in a whole new way. How­ev­er, LIFE pho­tographs are noto­ri­ous­ly expen­sive to license. So if I'm going to use them in the doc­u­men­tary, I'm going to have to have a fundrais­er myself. Speak­ing of which… Be on the look­out for our Kick­starter launch in Octo­ber, and if you're in Hon­olu­lu on Octo­ber 28, come to our "Night in Old Shang­hai" cock­tail par­ty ben­e­fit where we will pay homage to the efforts of these 1941 fash­ion­ista fundraisers.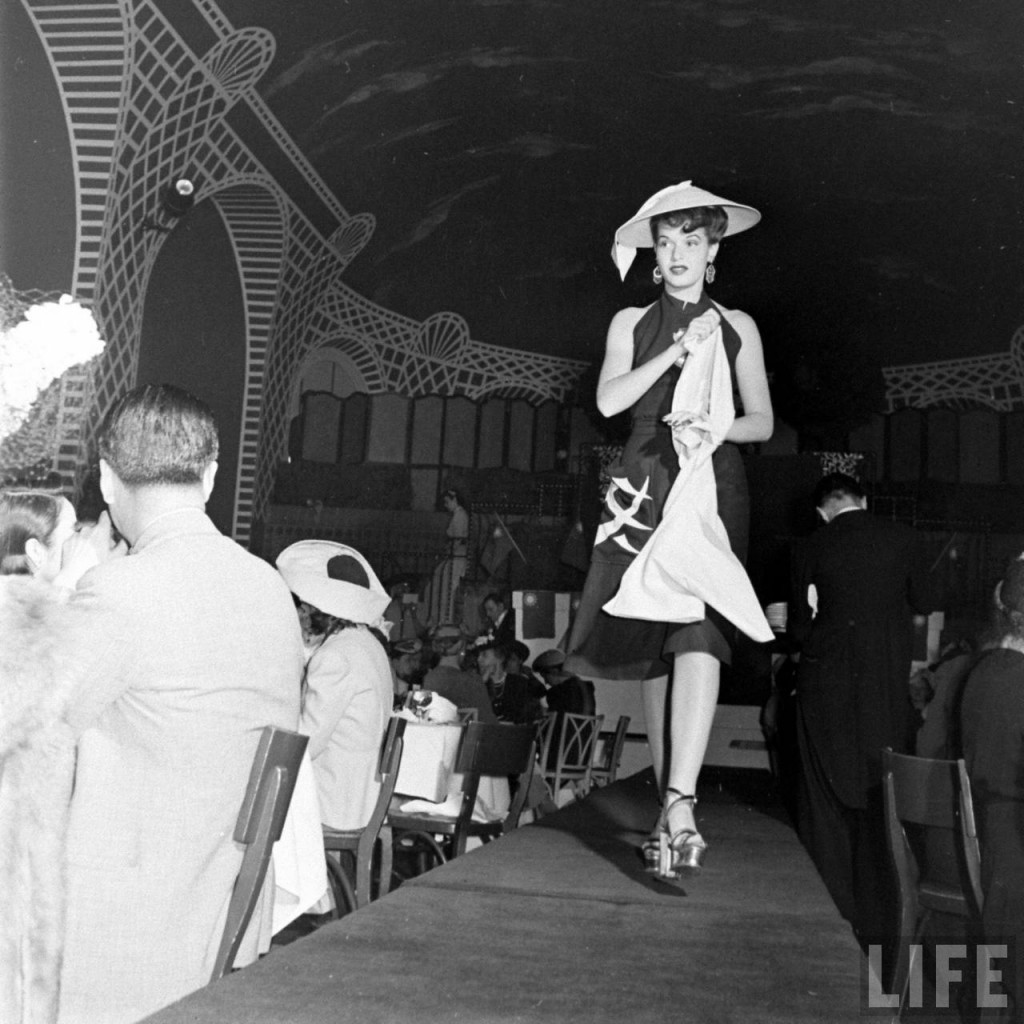 There's noth­ing like hav­ing a cold over the hol­i­days to make you feel sor­ry for your­self. It's that old deject­ed feel­ing that creeps in as the box of kleenex gets emp­tied. Now that I've recov­ered, I'm hav­ing some belat­ed Thanks­giv­ing thoughts, tal­ly­ing up the wind­falls that have come my way over the past year — many by way of the inter­net and blo­gos­phere. Recent­ly I made an inter­net con­nec­tion with blog­ger Duri­an Dave, who turned out to be a very gen­er­ous like-mind­ed soul with an incred­i­ble visu­al archive and wealth of knowl­edge about old Chi­nese films and film actress­es. See his blog and Tum­blr for hours of enter­tain­ing and eye-open­ing arti­cles and pho­tos. David advanced my KUKAN research tremen­dous­ly by send­ing a bunch of choice KUKAN relat­ed items to me, includ­ing this vin­tage lob­by card.
Besides dis­play­ing gor­geous col­or and imagery, the card had an intrigu­ing embossed stamp on the bot­tom of it: "STATENS FILMCENSUR 1947–48." David sus­pects that the stamp refers to Swe­den's cen­sor­ship board. If he's right, that means KUKAN screened all the way in Swe­den! So if any of you Swedish film col­lec­tors come across 16mm Kodachrome col­or footage of Chi­na that appears to be from 1939 or 1940, let me know! We're still look­ing for good par­tial prints to help with the KUKAN restoration.
My next post will fea­ture the fab­u­lous pho­to of a jet-set­ting Li Ling-Ai that Duri­an Dave dug up as well as info about a cou­ple of oth­er ground­break­ing Chi­nese Amer­i­can females work­ing behind the cam­era. Why not now you might ask. Hey, I'm still recovering!