Category Archives:
Fashion
When I first made con­tact with Rey Scot­t's grand­daugh­ter Michelle Scott and filled her in a lit­tle about the sto­ry behind KUKAN, she felt a need to trans­fer that sto­ry into paint and shared with me a vision she had for cre­at­ing a whole room of paint­ings ded­i­cat­ed to her grand­fa­ther and KUKAN. It seemed like a far-fetched dream back then. So I was more than a lit­tle excit­ed to go to Atlanta to wit­ness the open­ing of Michelle's solo show — THE KUKAN SERIES. Michelle had­n't shared any images of the new work with me, so I was­n't pre­pared for the visu­al sweep and emo­tion­al pow­er of the work. It lit­er­al­ly brought me to tears. Here are a few choice pieces from the show. WARNING — these pho­tos do not do the pieces jus­tice. The real pieces have an almost three-dimen­sion­al qual­i­ty that allows the view­er to enter into the scene and expe­ri­ence a lit­tle of Rey Scott and Li Ling-Ai's world back in the late 30's.
The 36"X36" piece that Michelle cre­at­ed exclu­sive­ly for our Kick­starter fundrais­ing dri­ve is dis­played right in the front win­dow of 2Rules Fine Art in Mari­et­ta. Casu­al strollers walk­ing down the side­walk can't help but be pulled in to find out with the imagery is all about. For close up details of this paint­ing go to our Kick­starter home page.
The KUKAN Series con­tains a few gor­geous trib­utes to Li Ling-Ai the Chi­nese Amer­i­can author who was the uncred­it­ed co-pro­duc­er of KUKAN with Rey Scott.
The work below con­tains images of Li Ling-Ai from three dif­fer­ent decades and three dif­fer­ent loca­tions (the old Hon­olu­lu Acad­e­my of Art, Bei­jing Chi­na, and New York City)
There are also fab­u­lous pieces that pro­vide a visu­al mon­tage of the Chi­na wit­nessed through Rey Scot­t's cam­era. He took both stills and 16mm col­or movies. Some of his old cam­eras are on dis­play too with the orig­i­nal stills.
Rey Scott trav­eled all the way to Tibet and filmed some of the first col­or footage of prayer rit­u­als there.
Michelle's take on the orig­i­nal KUKAN lob­by cards for the Unit­ed Artists ver­sion of the film.
Rey Scott also filmed the famous Bur­ma Road as it was being built.
A reminder of the British influ­ence in Hong Kong which fell to the Japan­ese in 1941.
A whole movie could be made just about the baby giant pan­da bear that Rey Scott brought from Cheng­tu to the Chica­go Zoo. Orig­i­nal­ly chris­tened "Li Ling-Ai" by the for­e­ing jour­nal­ists in Chungk­ing, it was lat­er named Mei Lan when it was iden­ti­fied as a boy pan­da bear.
There are many more gems in this show. But the emo­tion­al high­light for me was being able to see the first two por­traits of Rey Scott and Li Ling-Ai that Michelle did. I first saw them on her web­site before we even knew each oth­er and before she even knew who Ling-Ai was. This was the first time I was able to see them both in per­son. Since the pieces had been sold to dif­fer­ent col­lec­tors sev­er­al years ago, this was also the first time they were reunit­ed in the same room for quite some time — a sym­bol of hope for me as I con­tin­ue to seek fund­ing to fin­ish FINDING KUKAN.
If you are in the Atlanta area make an effort to see this his­toric show — up only until Octo­ber 26, 2012
Late tonight I am putting off writ­ing a pre­sen­ta­tion for upcom­ing Octo­ber events and brows­ing the won­der­ful pho­tos of Li Ling-Ai that Soft­film blog­ger Duri­an Dave dis­cov­ered in the LIFE pho­to archives. These are all of a Unit­ed Chi­na Relief Fash­ion show in May 1941 and tak­en by Alfred Eisen­stadt (note KUKAN would pre­miere the fol­low­ing month in NYC — it must have been a heady time for Li Ling-Ai).
I love see­ing this crowd shot of all the NYC socialites wear­ing their hats. While view­ing these pho­tos, a bell rang in my head and I remem­bered some of my research at the Colum­bia Rare Book and Man­u­script Library. A fash­ion show had been held at the Hotel Pierre. Sure enough, I com­pared a cur­rent pho­to of the pent­house ball­room and the arch­ways are the same. I got chills remem­ber­ing that I had been to a wed­ding at that same spot back in the 90's.
I had no idea that Li Ling-Ai par­tic­i­pat­ed in the fash­ion show when I took those notes at Colum­bia a cou­ple of years ago.
Li LIng-Ai is seen here pos­ing with James Blaine, nation­al chair­man of Unit­ed Chi­na Relief and the pres­i­dent of Marine Mid­land Trust. He was just one of the NYC CEOs that Hen­ry Luce recruit­ed to lead the huge fundrais­ing effort to aid Chi­na pri­or to WWII.
These pho­tos bring this 1941 event to life for me in a whole new way. How­ev­er, LIFE pho­tographs are noto­ri­ous­ly expen­sive to license. So if I'm going to use them in the doc­u­men­tary, I'm going to have to have a fundrais­er myself. Speak­ing of which… Be on the look­out for our Kick­starter launch in Octo­ber, and if you're in Hon­olu­lu on Octo­ber 28, come to our "Night in Old Shang­hai" cock­tail par­ty ben­e­fit where we will pay homage to the efforts of these 1941 fash­ion­ista fundraisers.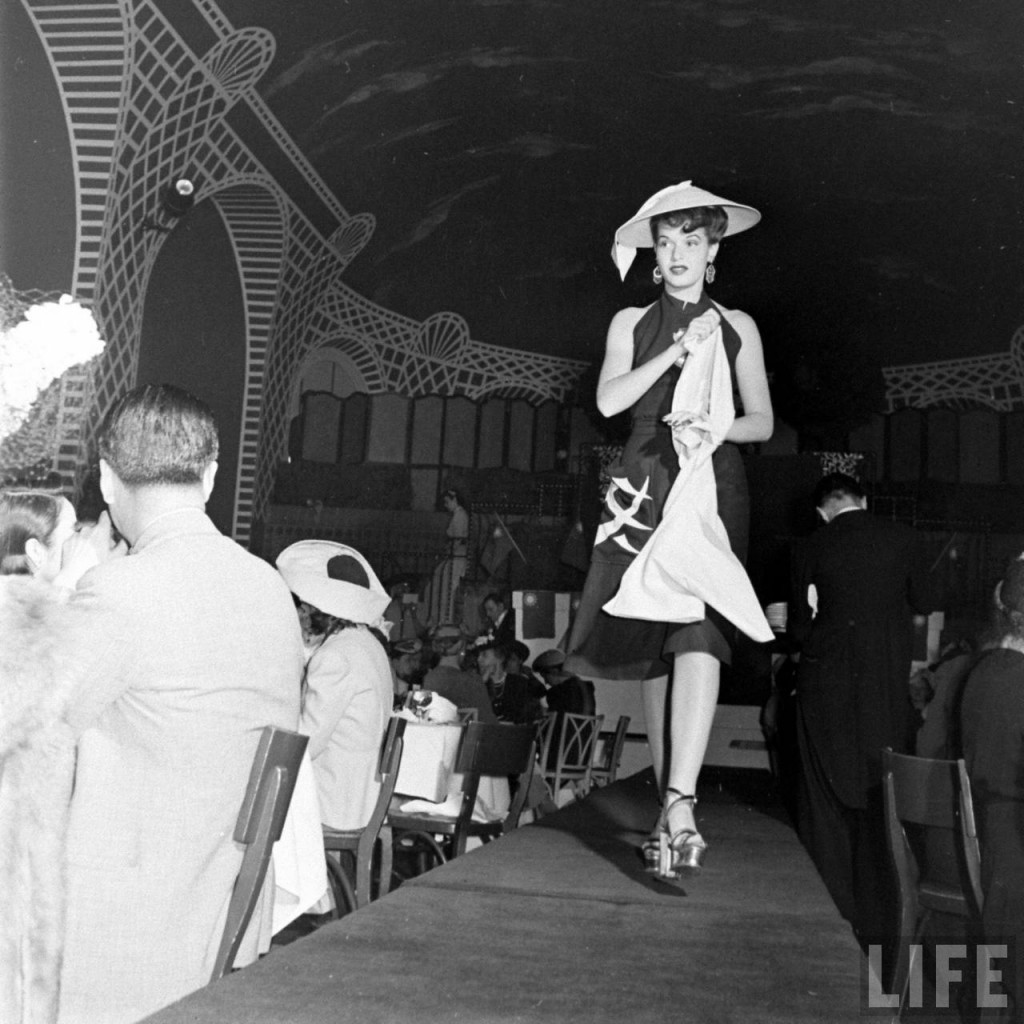 Warning
: Use of undefined constant uftp_specialarraysearch - assumed 'uftp_specialarraysearch' (this will throw an Error in a future version of PHP) in
/home/nested5/public_html/wp-content/plugins/ultimate-photo-widget-by-eth/gears/source-pinterest.php
on line
30
Li Ling-Ai, the Chi­nese Amer­i­can author who lured me into FINDING KUKAN, was known for always wear­ing a tra­di­tion­al Chi­nese dress known as a cheongsam (or qipao in Mandarin).
I did­n't always have an appre­ci­a­tion for the style since I asso­ci­at­ed it with my elder­ly grand­moth­er who lived with us when I was a teenag­er in the 70s. Her old-fash­ioned Chi­nese ways and insis­tence on wear­ing a Chi­nese dress every­where was a cause of angst and embar­rass­ment to me at a time when appear­ing too eth­nic or Asian was just not the cool thing to do.
But my atti­tude has changed over the years along with the fash­ions. All the rage in the 20's and 30's when Chi­nese women were express­ing new­found free­doms, the cheongsam was banned in main­land Chi­na dur­ing the Mao era and lat­er con­sid­ered too old-fash­ioned by Chi­nese women who were going for more mod­ern West­ern looks in the 70s and 80s. Accord­ing to this excel­lent arti­cle by Babette Rad­clyffe-Thomas, sexy Chi­nese movies like IN THE MOOD FOR LOVE have recent­ly inspired a nos­tal­gia for the cheongsam.
Madon­na, Nicole Kid­man and Kel­ly Pre­ston have all been caught wear­ing the style to glam­orous effect at red car­pet events.
To hon­or Li LIng-Ai and the revival of the cheongsam (and also divert myself from writ­ing grant appli­ca­tions), I've been col­lect­ing cheongsam pho­tos on my Pin­ter­est board. Here are some of my favorites.
— No con­tent found.
— Check your ID and board name.
Have a favorite cheongsam of your own? Post in the com­ments or send me a link to your pin and I'll put it on my board.